---
POSTED ON MAY 21, 2013

Another Tour Down. Another Tour Booked.
Evil Eddie hits Australia's east coast once again.
Earlier this month saw the end of my run of dates with the ever infamous 28 Days. Finishing up in Melbourne, smack bang in the middle of 28 territory, all hell broke loose as punters who hadn't moshed in 10+ years found themselves leaping from the stage and kicking their best mates in the face. Although I couldn't make it to the Perth gig (sorry Perth) I performed at all East Coast dates with a very warm welcome in every instance so, I gotta say thanx to all the newly converted 28 Days turned Evil Eddie fans that I met along the way. Cheers!

Now, as this little tour did so well you may be pleased (or disgusted) to know that I'm hitting the East Coast again in less than a months time and these are the dates...

Saturday, June 8, 2013 - Come Together Festival, Luna Park, Sydney, New South Wales, Australia - BUY TICKETS

Sunday, June 9, 2013 - Rumble Rock, The Arena, 210 Brunswick St, Fortitude Valley, Queensland, Australia - BUY TICKETS
Saturday, June 15, 2013 - Laundry Bar, 50 Johnston St, Fitzroy, Victoria, Australia - FREE ENTRY

Come together is going to be a huge one with an all star Oz Hip Hop line up including Drapht, Illy, The Herd and buttloads more. For Rumble Rock in Bris I'll be sharing the stage with The Meanies!!! Legendary. Then, I've got my own little club gig in Melbourne at Laundry Bar which is absolutely FREE. Can't beat that kinda value.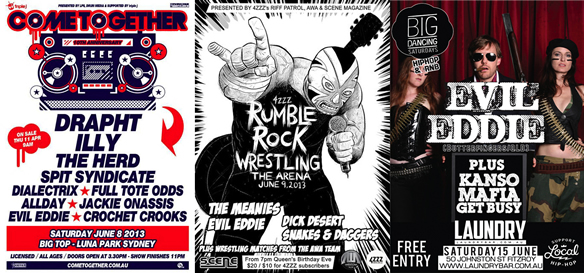 I've also entered into a couple of competitions of late, and I require your help with one of them. The QMA's (Queensland Music Awards) is the first, so lookout for info about that but it's the Musicoz Awards that I need your help with as it comes down to a public vote. Please click the link below, vote for me and encourage your friends to do the same. Winning or even being a runner up will help boost my profile etc and I need as many feathers in my cap as I can get right now. I'm goddamn featherless I tells ya. Here... click this pic... link... thing...
And last but not least, I'm having a killer sale of my older merch items. Sale T-shirts are less than cost price at just $10. Sale stock is extremely limited so get in quick (ladies, I'm looking at you). Check em out here at the Evil Eddie Store and be excellent to each other.

Peace. Evil Eddie.

---
POSTED ON MARCH 24, 2013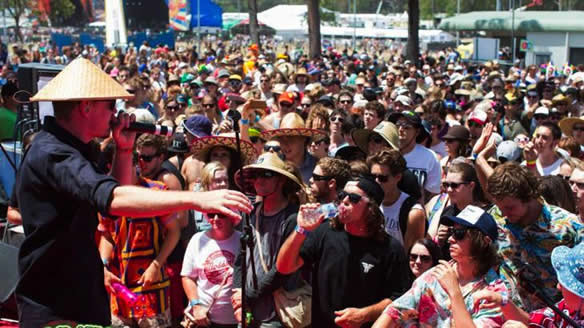 Well things have been so busy over here at Evil headquarters that i haven't had a news update for about 5 months now and I thought it was about time I got you guys in the loop about what's happening. Last update was all about the album release and the tour that followed which I must say was an absolute blast. Massive thanx to everyone who dragged themselves out to shows, rain , hail or shine, particularly those who traveled great distances to be there and to those of you who came to consecutive gig after gig after gig. It's you repeat offenders that give me the crazy notion that I might be dong something right.
Since the tour I've had my studio flooded (Queensland coming back to bite me in the arse), pulled apart and now, fortunately completely rebuilt. Somehow, even though i had about 10 guitars, 2 subs and the rest of a P.A., guitar amps and bunch of other miscellaneous electrical equipment sitting under about 2.5" of water, nearly everything has dried out and come back to me in complete working order. The whole thing was kinda freakin' me out for a bit there but now that I've put it all back together (and it's finally tidy) I feel re-energised and keen to start working on the next release. Fingers crossed for something early next year.
Looking back at the figures, sales of 'Welcome to Flavour Country' got off to a fairly shaky start in Nov for numerous reasons but seems to have picked up quite rapidly since the start of the new year and caused the Evil Eddie Facebook 'Likes' to explode. Considering I haven't seen much rotation on the radio of late, my whole business is based on word of mouth and for this reason I wanna say thanx to everyone of you who supported me, bought the record and told your friends. Without you I'd be still be singing to myself while making boxes at my old factory job so yeah, thanx.
Another interesting development with the album is the attention it's getting in the states right now. 'Welcome to Flavour Country' was recently serviced to college radio stations across America and jumped to #34 in the CMJ Independent Hip Hop Chart in it's first week. The following week it went up again to #16 and this week it's sitting at #18. Needless to say I'm hugely surprised by the amount love it's getting considering the accent barrier and that I've had no previous contact with that market. Still, not one to look a gift horse in the mouth I now have my sights set on touring there and hope to be jumping up and down on American soil before the end of the year.
In the meantime I have another run of shows to keep the Australian contingent occupied and this time I'm supporting the infamous '28 Days' on their 'Upstyle Down 2013' national tour. The Brisbane show will see Evil Eddie and spitfireliar (the punk band I'm in) play together on the same bill for the very first time and should be a blast. Unfortunately due to logistics I'm bypassing the Perth and Geelong legs of this tour (sorry guys) but I am doing all other shows as listed below.
Wednesday, April 24, 2013 (supporting 28 Days) - The Hi Fi Bar (Sydney), 122 Lang Road, Sydney, New South Wales, Australia - BUY TICKETS
Thursday, April 25, 2013 (supporting 28 Days) - Cambridge Hotel, 789 Hunter St, Newcastle, New South Wales, Australia - BUY TICKETS
Friday April 26, 2013 (supporting 28 Days) - The Hi Fi Bar (Brisbane), 123 Boundary St, Brisbane, Queensland, Australia - BUY TICKETS
Saturday, May 4, 2013 (supporting 28 Days) - Adelaide UniBar, Victoria Drive, Adelaide, South Australia, Australia - BUY TICKETS
Friday, May 10, 2013 (supporting 28 Days) - Prince Bandroom, 29 Fitzroy Street, St. Kilda, Victoria, Australia - BUY TICKETS
Also, big thanx to everyone who came to the Sprung Festival and the Gold Coast Big Day Out, Lilypad gigs I did. With such an early time slot at BDO i wasn't expecting to see so many people but as it turns out I think we had the biggest crowd at the Lilypad stage all day. Massive props! Hopefully they take note for next year and put me on the main stage.
Cheers. Evil Eddie.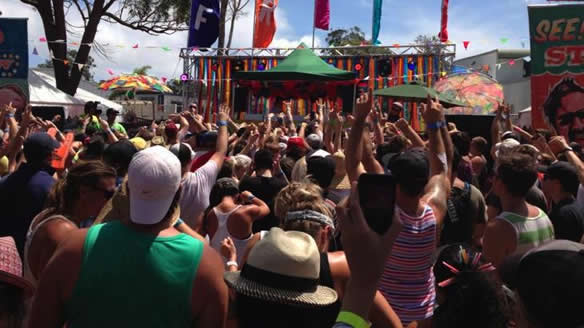 ---
POSTED ON NOVEMBER 3, 2012

It's time to take the show on the road! As you may well know, Evil Eddie's debut solo album 'Welcome To Flavour Country' was officially released last week on iTunes and physical copies landed in stores across Australia today. To celebrate the release Evil Eddie is undertaking a 6 week national tour with a live band, visuals show and some very special guests, hitting every major town from Brisbane to Perth via Hobart. Pre-sale tickets are capped at $15 or less for all shows (that's a bargain by the way) and the set list is shaping up to include all the new 'Flavour Country' material along with a decent slab of Buttefingers classics to boot. For dates and tickets see below.
In other news filming for the new Evil Eddie clip began today and another single looks set to drop sometime in the next few weeks. The song in question is not yet announced but to give you all a clue, the clip involves Eddie getting very drunk for the most part... likely story.
New merchandise will also land in the Evil Eddie Store as of next week and will include 'Welcome to Flavour Country' tour shirts, stubbie coolers, lighters and a reprinting of the original Flavour Country Hoodies (yes, i know it's almost summer in Australia but people keep buying the damn things). For CD's, posters, shoes or any of the items listed above, please visit http://www.evileddie.com/Store.html
If you plan on attending any of the gigs listed below, please help spread the word by RSVPing to the event on Facebook here and/or inviting as many of your friends as possible. Your continued support is much appreciated.
Cheers. Team Evil.
P.S. A special thank you goes out to all those who pledged. You helped make this all possible!
Tour Dates
Thursday, November 22, 2012 - The Patch | Wollongong Fairy Meadow, New South Wales, Australia - Get Tickets
Friday, November 23, 2012 - The Entrance Leagues Club The Entrance, New South Wales, Australia w/ MC Luvin + Mesmerize/Prozacc - Get Tickets
Saturday, November 24, 2012 - Great Northern Hotel Newcastle, New South Wales w/ Drakezilla + King Brown & Killmonkey - Get Tickets
Sunday, November 25, 2012 - Transit Bar Canberra, Australian Capital Territory - Get Tickets
Wednesday, November 28, 2012 - The Brass Monkey Cronulla Beach, New South Wales, Australia w/ Rapaport + Madame Wu - Get Tickets
Thursday, November 29, 2012 - The Annandale Hotel Sydney, Australia w/ Deadbeat & Hazy + Madame Wu - Get Tickets
Friday, November 30, 2012 - Karova Lounge Ballarat, Victoria, Australia w/ Polo Club - Tickets @ the door
Saturday, December 1, 2012 - Northcote Social Club Northcote, Victoria, Australia w/ Polo Club - Get Tickets
Thursday, December 6, 2012 - The Barwon Club Hotel Geelong, Victoria, Australia w/ Polo Club - Get Tickets
Friday, December 7, 2012 - The Ed Castle Adelaide, South Australia, Australia w/ Mase & Mattic - Get Tickets
Saturday, December 8, 2012 - Republic Bar & Cafe Hobart, Tasmania, Australia w/ Greeley & Dunn D - Get Tickets
Sunday, December 9, 2012 - Tapas Lounge Bar Devonport, Tasmania, Australia w/ Catchpenny - Get Tickets
Thursday, December 13, 2012 - Amplifier Capitol Perth, Western Australia w/ The Stoops + Mathas - Get Tickets
Friday, December 14, 2012 - Metropolis Fremantle Fremantle, Western Australia, Australia w/ Boys Boys Boys + Mathas - Get Tickets
Saturday, December 15, 2012 - The Prince Of Wales Hotel Bunbury, Western Australia, Australia w/ Boys Boys Boys + Mathas - Get Tickets

---